Hitting The Trail… Close to Home!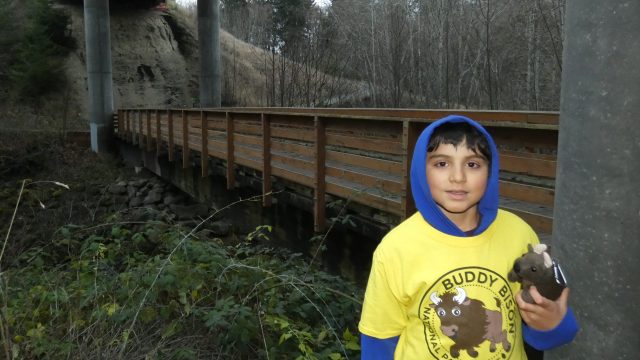 I often like to go running, biking, and walking on the Olympic Discovery Trail because it is just down the road from our house. It is a 135-mile-long trail on the Olympic Peninsula in between Port Townsend and La Push, WA, of which 90 miles are paved. The trail was the idea of 3 cyclists who created the Peninsula Trails Coalition and is built on an old abandoned railway.
We have seen many cool things along the trail. One time we were walking on it towards the Port Angeles
dock and saw a river otters. Another time, we watched river otters feeding for over 15 minutes from the dock.
We also went along the Trail to the water to watch the 4th of July fireworks. I liked that there were many colors and shapes of the fireworks. The clouds lit up in many colors. In many parts of the US similar trails are available through the Rails to Trails Conservancy, which makes trails out of old abandoned railways. They have built over 24,000 miles of trails which are scatted across the country. To find one near where you live, check their website (https://www.railstotrails.org). We found a fun multi-use trail in Grand Tetons National Park when we were visiting, and we decided to ride on it for 18 miles, which was tiring but fun.