In Memoriam – Frank Lee Ruggles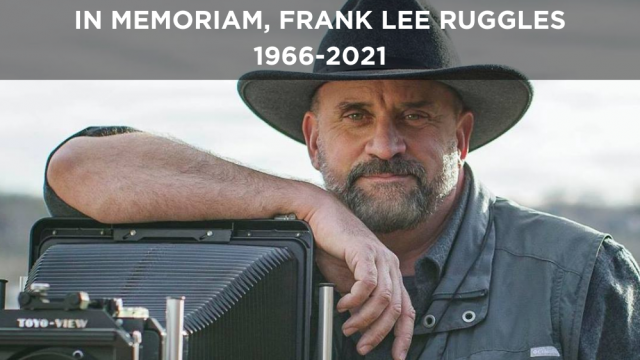 Our Park Trust family is sad to share the unexpected and sudden loss of our beloved friend, colleague, and first Artist Ambassador, Frank Lee Ruggles. Frank was a conservation photographer and a former eminent photographer for the National Park Service's Digital Imaging Project which took him to national parks across all 50 states. In his #MyParkMyWhy video recorded in May shortly before his death, Frank shared that Shenandoah National Park was his favorite national park where he felt "free and at peace — his happy place."
Many of you have enjoyed Frank's first book, Chasing Light, published in 2017, a collection of his iconic national park images shot over 11 years. Most recently we were excited to follow him as he undertook his ambitious 79 Years Project, seeking to duplicate and re-shoot Ansel Adams' Mural Project. The Mural Project was originally commissioned by the Department of Interior in 1941-1942. He was in the midst of that project when he passed away on July 4th.

I first met Frank when he was introduced to me by one of our board members Chuck Knauss. Like so many that knew Frank, Chuck met him at a camera store in Northern Virginia. Frank enjoyed helping people hone their photography skills including the selection of the perfect camera, and Chuck and his son Collin's experience was no different. That chance encounter led to a wonderful seven-year partnership between Frank and the National Park Trust.
Chuck shared that "Like our national parks – Frank was a true national treasure. His supreme talent as a photographer captured the majesty of our parks in the most unique, creative, and inspiring way I've seen. This talent was matched by his ability to inspire – as a motivator of the next generation of park stewards through his entertaining, passionate, and personal storytelling. While we preach to park visitors the mantra of "leaving no trace," I am proud that Frank has left more than a trace – indeed, he left a profound and lasting impact for the benefit of all of us and, in a life far too short, inspired people through his work to an extent that others only hope to attain."
As our first artist ambassador, Frank Ruggles' impact on our mission and programs was enormous. As a conservationist, he was no ordinary photographer — he used his art to tell the stories about our national parks sites — not just the magnificent landscapes and geologic wonders like Yellowstone and Yosemite, but also the monuments, memorials, and cultural sites that preserve our country's rich history. And with more than 400 sites in the National Park Service, Frank had an endless number of places to explore and capture on film. He even used his skills learned during his years as a paratrooper in the Army's 82nd Airborne Division to get that perfect shot!
We all know that Frank was passionate about our national parks. However, many may not know that while he did not have any children of his own, he was equally passionate about the importance of getting kids of all ages from diverse communities connected with the great outdoors. His best friend and wife of 25 years, Lisa Crow Ruggles first introduced him to photography, and together, they generously supported our mission and programs. For every project that Frank worked on, he made sure that a percentage of the proceeds would benefit the Park Trust. And every time we asked for his help — from providing photographic images, to serving as a guest speaker at a donor event, to promoting our #MyParkMyWhy social media campaign, his answer was always an enthusiastic "yes"!

Our deepest condolences to Lisa, his family, and friends everywhere — and his lovable Great Dane Stanley, a gentle giant like Frank.
In honor of Frank, may we all pledge to discover, explore, protect and preserve our wonderful national parks — and find our happy place.
Lisa has kindly suggested that memorial contributions be directed to the National Park Trust. If you would like to make an online gift in Frank's memory, we will let his family know, along with any message you would like to add. Or you can send your gift by mail to
National Park Trust, 401 East Jefferson Street, Suite 207, Rockville, MD, 20850