A Valentine's Day Trip to the Arboretum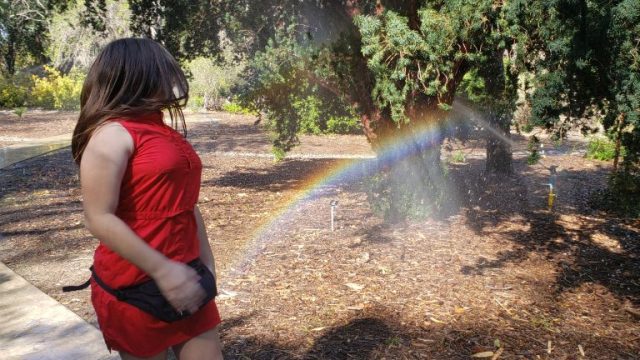 Hi there, it's Penny! It's been a while since my last visit to a national park site, I sure do miss it. I can't wait to go back again and explore the outdoors. Whenever I feel like spending time in an outdoor space closer to home, I visit the Los Angeles County Arboretum & Botanical Garden, a unique 127-acre botanical garden and historical site located in Arcadia, California.
My family and I have an annual membership with them, which allows us to visit anytime, for an entire year. The mission of Los Angeles County Arboretum & Botanic Garden is to cultivate their natural, horticultural, and historic resources for learning, enjoyment, and inspiration. The history of this area dates as far back as 500 BC. At that time, a native village, Aleupkigna ("place of many waters"), was established near the natural lake on today's site. In 1771, Mission San Gabriel was founded. Rancho Santa Anita is established as an agricultural outpost of Mission San Gabriel. This property had several different owners over the years before it was established as the arboretum. In 1947, the state of California and Los Angeles County purchased 111 acres from Rancho Santa Anita, to create an arboretum around this historic site. Over the years, it has been expanded, and today it is home to a wide variety of plant and tree species from all over the world.
On February 14, Valentine's Day, my mom, Buddy Bison, and I visited the Los Angeles County Arboretum & Botanical Garden. The first place we went was the tropical greenhouse. This was my first time visiting the greenhouse because it had been closed to the public during the pandemic. It is home to several thousand orchids. There are running waterfalls inside. It was peaceful and serene to be surrounded by so much green, tropical plant life. It was surprisingly large inside. It looked like a jungle there. After we left the greenhouse, we walked around and explored for a bit. There are plenty of art structures and sculptures displayed throughout the gardens. After walking around for a while, we found a shady tree and sat on the grass, and enjoyed ourselves. We visited the rose garden, in hopes of finding some vibrant roses on Valentine's Day, but the roses were not in bloom at the time. Buddy and I discovered some other beautiful flowers that had blossomed though.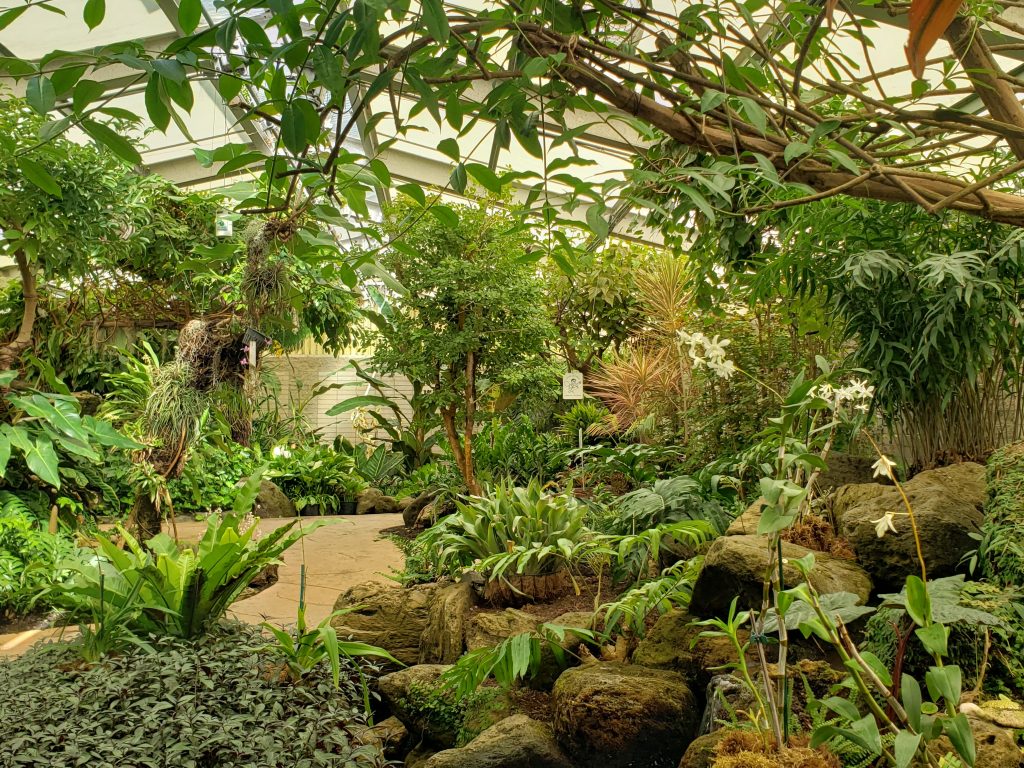 One of the last things we did that day was visiting a section of the arboretum called, "Garden of Quiet Reflection." There are many inspirational quotes carved in various places on the concrete, walkways, and stone. My favorite quote I discovered that day carved on the ground was " I believe the world is incomprehensibly beautiful- an endless prospect of magic and wonder." – Ansel Adams. There was also a quote by Dr. Martin Luther King Jr. carved on the ground, which stated "The time is always right to do what is right." There was another one that said, "Trees are poems that the earth writes upon the sky." By Kahlil Gibran.
One of the highlights of the day was when we roamed through the running sprinklers, and cooled off in the misty water. We had so much fun doing that! It was a beautiful memory that I will never forget. We saw vibrant rainbows from the drizzle that was being sprayed high up in the air. It felt amazing and I felt instant bliss. After that, we visited the gift shop and ended the day with some ice cream. I hope you enjoyed learning about the Los Angeles County Arboretum & Botanical Garden and my visit there on Valentine's Day.