An Interview with Ranger Dave at Sleeping Bear Dunes National Lakeshore
Sleeping Bear Dunes National Lakeshore is a thrilling park to visit! It is located in the town of Empire in the state of Michigan. The gigantic sand dunes there are the heart of the park. The dunes at Sleeping Bear are piles of Lake Michigan beach sand that are blown into place. The wind pushes the grains of sand which makes the dunes constantly change. The biggest dune is 450 feet above Lake Michigan. They occupy about four square miles (ten square kilometers) within the 100 square miles (260 square kilometers) area of the park. It's two miles to get from the Dune Climb, which is a well-known site, to Lake Michigan! The Dunes were originally glaciers. Some parts are dunes, while other parts consist of glacial sands, clay, gravel, and rocks. 
As stated at the visitor's center, "The dunes are a beautiful, varied, and fragile environment. Enjoy them, but gently! You should always stay on designated trails to avoid causing erosion and damage to the wildlife". The dunes are only part of this amazing place. The only way to experience this wonderland is to explore it yourself and see the beauty of Sleeping Bear Dunes National Lakeshore.
As a Student Ambassador for the National Park Trust, I traveled to Sleeping Bear Dunes National Lakeshore to interview Ranger Dave Fenlon, a park ranger who works to protect the incredible land of Sleeping Bear Dunes. Below is a recap of our conversation.
Everleigh: Today, I'm here with a Ranger who works to protect, take care of, and preserve Sleeping Bear Dunes National Lakeshore. Welcome Ranger Dave, it's so nice to talk with you today!
Ranger Dave: Pleasure to be here.
Everleigh: I just have a couple questions. How long have you been a Ranger?
Ranger Dave: Just over two years. I started in 2020 here at Sleeping Bear Dunes.
Everleigh: When and how did you know you wanted to be a park ranger?
Ranger Dave: Great question. Probably would have to be when I was in college. I was a freshman in college, so I was about 18. I went on a summer course field trip for a class to Yellowstone National Park. That was my first National Park Site, I'd been to Sleeping Bear Dunes- I grew up right next door here but I had never been to a real, big National Park so that was an eye opener. I got to follow around a Ranger that had a similar job to what I have today, and didn't know that was a thing, there are interpretive Rangers who walk around interpreting the resources for visitors, and so I was hooked from then on!
Everleigh: Now I have a few questions about the park, Sleeping Bear Dunes. Is this park open year-round for visitors? 
Ranger Dave: Yes, we are open 365 days a year except for some federal holidays. The visitation goes way down in the winter as we don't get nearly as many people wanting to come in the winter. But, there are opportunities to sled on the Dune Climb and ski on the trails,and snowshoeing. Still lots to do! 
Everleigh: How many visitors visit this park year-round?
Ranger Dave: I think we broke the record last year, we were at 1.8 million for the year, close to 2.
Everleigh: Wow!
Ranger Dave: I think we are down slightly this year, but not by much. I think we are on track for another 1.7 million.
Everleigh: That's awesome. This National Park is SO amazing!
Everleigh: I heard you were talking about invasive species today.
Ranger Dave: Sure, gladly. Let me grab my prop. This is part of an invasive plant called baby's breath. It's a common flower that you see in wedding bouquets. It has tiny white or grayish flowers and smells kinda nice but unfortunately, it likes to spread like wildfire here at the Dunes. It's covering both sides of the dune climb. It is very well suited for the Dunes climate and out-competes the native species that are around. It sucks up all the water and grows really deep. This is the tap root here, where the plant actually grows out from the soil. It can get up to six feet long. You can see how it really anchors the dune. If there's a whole field of them, all these six feet taproots everywhere, it's going to stop the dune from moving around which makes it cease to be a dune, and turns into a grassy hill. That's my short spiel on why this particular invasive species is a nuisance which is pretty hard to get rid of.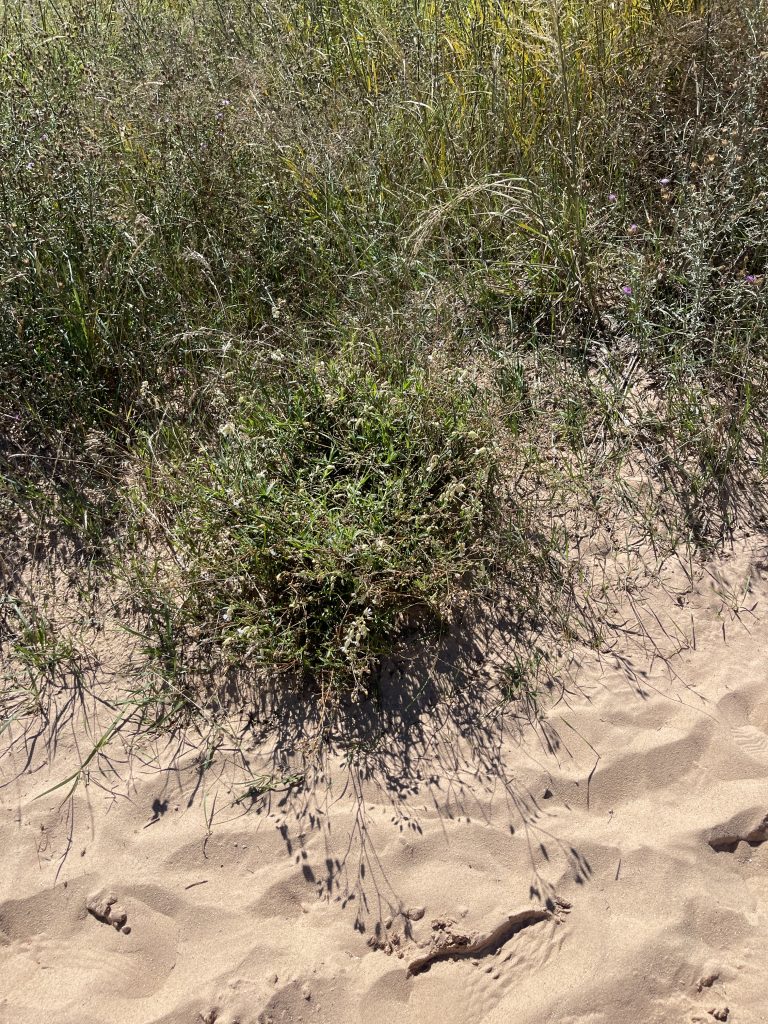 Everleigh: What can kids like me do to help this cause?
Ranger Dave: Please don't go out and start pulling out plants, even if you are pretty sure it's an invasive plant. You might be helping to spread the seeds accidentally. Plus, we want to encourage "Leave No Trace" ethics, which is to leave everything as you found it. Leave it up to the professionals to remove invasive species. You can help by spreading the word. Take what you learned from my little talk just today and other things you learn about invasive species and then spread the word with your family and friends because that's really how we prevent these things from spreading. Awareness about the issue, educating yourself, and spreading that knowledge can help go a long way. 
Everleigh: We can all help preserve these parks, by spreading the word. But whatever you do, do not remove anything from these parks! What's your favorite activity to do during each season in the park?
Ranger Dave: It has to be backpacking. I love camping with everything in my pack. My food, my tent, my sleeping bag, my stove, and all the stuff I need. Being able to pack up from my site, leave it as I found it, if not better, and then move on down the trail and then just spend a few days out in the wilderness. The Manitou Islands that are in the park are a magnificent experience.
Everleigh: What's your favorite season to go backpacking?
Ranger Dave: That's a tough call. Probably the fall with the colors changing. Depending on where you are, the timing is different. Here we tend to be a little later since we are so close to Lake Michigan. It prevents the temperature from changing too drastically. In October, the number of people in the park goes down a bit so you might have the trails to yourself more. It's a spectacular show when all the trees change color.
Everleigh: It was so nice chatting with you today.
Ranger Dave: You too, Everleigh. It's my pleasure.
It was very informative getting to talk to Ranger Dave and learn more about him and his work on the education team! The Rangers at this park work so hard to protect, preserve, and educate people about the land. Plan a trip with your family to Sleeping Bear Dunes National Lakeshore! There are so many things to see and do like visit the Phillip A. Hart Visitor Center, the Pierce Stocking Scenic Drive, the Glen Haven Historic Village, and the Dune Climb. There are also 100 miles of trails you can hike, as well as camping, swimming, fishing, stargazing, and so much more.  As Ranger Dave said, It's a great place to visit any time of the year!