Exploring Archeology at Russell Cave National Monument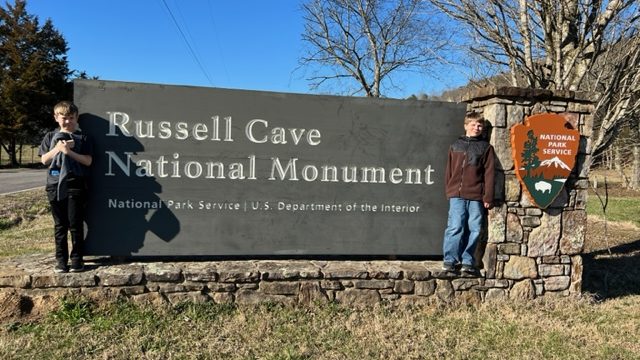 "It's cold," I said. But the cave was right there. I was at Russell Cave National Monument in Bridgeport, Alabama. The site has a limestone cave that was hollowed out by water, and was home to Paleo-Indians 11,000 years ago.
We went to the park to do the Junior Archeologist book for the site-specific badge. I have already done the Junior Ranger booklet here, but I wanted to earn the special edition badge. As a geocacher, I was also excited to see two Earthcaches at this location. When we got to the park, the visitor center was closed for renovation, so we had to go across the parking lot to the temporary visitor's center to get my book. We met two friendly rangers, and they found a booklet for me. I completed the required activities in my book to earn the badge, and then we walked to the sinkhole.
The sinkhole was carved out of the mountain over thousands of years. Water running through the limestone carved out a cave, and the roof collapsed, causing the sinkhole to appear. I wonder if the people who lived here used the water for bathing and swimming.
We then walked to the cave and came up with some questions for the rangers. I wanted to know how far back the cave went, how it was formed, and why there were bolts in the cave's walls near the entrance. We then returned to the temporary visitor center to get my badge and ask the rangers my questions. Did you know that three different species of pseudoscorpions live at Russell Cave? The ranger showed one to us that he had in a vial, and it was tiny. We found out the cave goes back seven miles underground. The rangers also told us that there are many caves in the area. Before we left, we got a picture at the sign.