Shenandoah University Students Reach New Heights at Compton Peak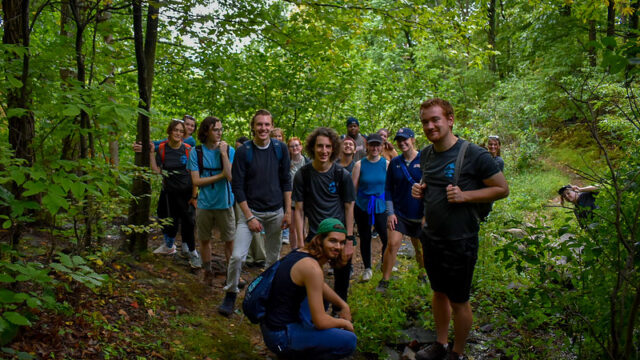 On the brisk, overcast morning of September 30th, a group of 21 Shenandoah University students departed to Shenandoah National Park for a hike to Compton Peak. Before the hike, we stopped at Dickey's Ridge inside the park for a quick bathroom break and to allow students to look around the museum. Our hike started around 11:30 am, with Jesse Eagle, my co-ambassador, and me at the back of the pack.
Due to various experience levels, we lost sight of most of the students while we trekked alongside two students in the back. It turns out that this was their first time hiking, so we made sure to rest when needed, and stop to look at things that caught our eye to make the experience one they would enjoy!
We met back up with the rest of the group at a fork and climbed down all together to look at columnar joints found in some large rocks. Students were mesmerized by the remnants of the rock and got to experience this natural phenomenon firsthand.
After hiking back to the fork, the two first-time hikers decided to take some extra rest and not branch off to hike to the peak. However, they both agreed that they wanted to come back the following weekend and hike back to the top. Considering this was their first hike, their mutual desire to do the hike again felt like an overwhelming success! As they hung back, the rest of the group hiked up to the peak and took in the scenic view in collective silence, fascinated by what stood before them – nature in the form of mountains and valleys as far as the eyes could see. After allowing some time to take it all in, the group headed back to the vans.
Due to some time constraints, one van headed back with six students who preferred to go straight to campus. The other 15, however, journeyed over to Spelunker's in Front Royal, VA for a post-meal hike funded by the National Park Trust. After pushing ourselves physically, there was unanimous excitement and satisfaction as we sat and guzzled down our hard-earned lunch.
Overall, I feel confident in saying that each and every student enjoyed themselves during the trip. While most students had experienced hiking before Compton Peak, we did get to introduce two students to the outdoor activity. Each student, though, was able to experience new sights, and I feel confident that everybody who attended will be open to another event outside!