The Grand Canyon Really is Grand!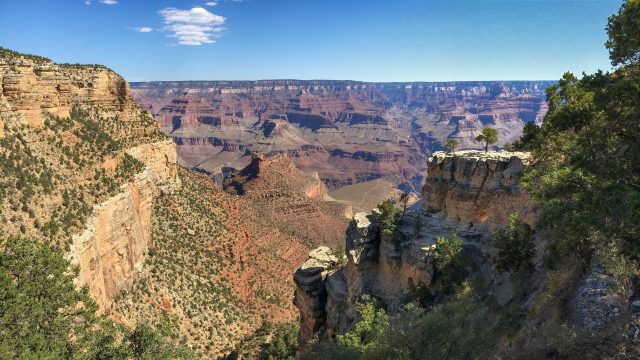 Aloha guys, it's me Ace!
I'm here to tell you about my favorite national park, but there's only one problem, I can't just pick one because I love them all. I love being outdoors snowboarding, hiking, and even just playing baseball at a local field. 
Speaking of being outdoors, my family and I had this awesome experience at the Grand Canyon National Park (AZ). It was one of my favorite family trips because it was one of the best experiences of my whole life. I've never been to something so big that made me feel so small. I remember my brother Kingston and I hiking some of the Grand Canyon just to see how far it was. I enjoyed looking out at the Colorado River and checking the nearby plants and animals to see what we could find. I really enjoyed taking pictures with our, seeing different angles in new lights. I remember going to a museum and reading all about the stars. 
 I can't wait to explore the whole canyon one day. There are so many other wonderful things I would like to do when I go back. For example there is a really cool 45 minute helicopter ride you can do that takes you across the whole Canyon.  When we go back, my dad said the next time we can even go camping, cook smores, go white water rafting, and tour the whole Canyon!
Here are some cool Grand Canyon facts not a lot of people know. The Grand Canyon National Park is bigger than the entire State of Rhode Island. The Hopi Native American tribe considers the Grand Canyon a gateway to the afterlife. Also, there are a bunch of hidden caves that not a lot of people see hidden in the Canyon. I think the best fact of all is that it took the Colorado River 6 million years to form the Grand Canyon. That's crazy! Just a regular river can carve through rock and turn something into a space as big as the Grand Canyon.
This was definitely one of my favorite Park experiences. I really hope someday you can go too. This is Ace for Kids To Parks Day!