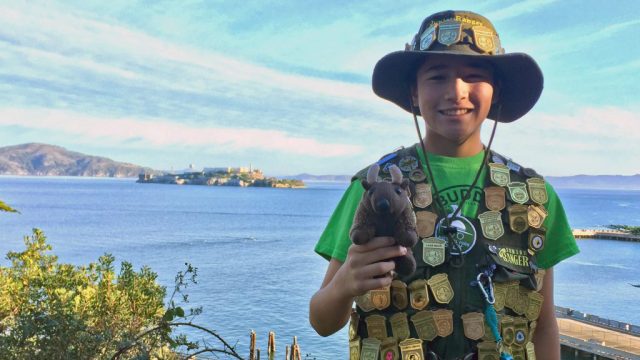 AMBASSADOR TIGRAN RECEIVES OAK ACORN AWARD
This month, National Park Trust was proud to witness Buddy Bison Student Ambassador Alumni Tigran Nahabedian receive the 2019 Outdoors Alliance for Kids Acorn Award in recognition of his outstanding efforts to advocate for the protection of our public lands and waters, and connect other kids to these important places!
GRAND STAIRCASE ESCALANTE NATIONAL MONUMENT CHANGING LANDSCAPES
We arrived at night; it was a desert mesa with a canyon in the distance. The signs of erosion and change were all around us. No campground tonight, no facilities, just a tarp on the ground under the clear night sky.
We had been traveling all day by van and my team was excited. Buddy Bison peeked up from the seat and I hauled my pack out of the van. We were off on a 100-mile backpacking trip through the Escalante River in Southern Utah. My group was the most experienced outdoors team at Ojai Valley School Lower Campus, 8 students and two teachers. The 100-mile trip is the most challenging of the outdoor experiences at Lower Campus and I knew I wanted to be part of this team from our very first outdoor trip in first grade. Everyone hikes and everyone camps at my school. You learn a lot about yourself and your friends.
This is my last year at Ojai Valley School (OVS) Lower Campus and my last year as a Buddy Bison Student Ambassador. Buddy Bison Ambassadors serve from 4th grade until the end of 8th grade. I am not sure what the future will hold for me at OVS Upper Campus but I am excited that I will continue working with National Park Trust as an Alumni Ambassador. In this new role, I will continue to educate children and families across the country about the benefits of our parks as I travel with Buddy Bison to new and exciting places. I also look forward to representing National Park Trust at youth leadership summits!
My outdoor experiences at Ojai Valley School have taught me many important lessons, and have allowed me to try many new things. For example, the 100-mile trip was my first time ever pack rafting. Pack rafting is when you put all of your supplies in an inflatable raft and paddle down the river. Even here we face the unexpected, the river level dropped just before we arrived so there was a lot of wading and scampering over gravel bars and mud. It was very fun, but there were also some risks and not everything went well. During one rapid, my backpack was torn open, and my raft started leaking; however, it was one of the most fun things we did on the entire trip. It is important to accept change and take some risks. It is good to go a little outside your comfort zone on an adventure.
This Kids to Parks Day, I volunteered at Channel Islands National Park. It was really fun, and I was lucky enough to meet Colton Smith from Rock the Park, and Robbie from Kids Speak for Parks. We had over nine hundred visitors including 120 kids!
This is my last article for the National Park Trust as the first Buddy Bison Student Ambassador, but I'm excited to start the new role as an Alumni Ambassador! You will still see and hear from me, I promise. Follow the other Student Buddy Bison ambassadors at parktrust.org.
STUDENT AMBASSADOR TIGRAN ATTENDS THE NORTHWEST YOUTH LEADERSHIP SUMMIT
CHARTING A PATH TO SUCCESS, THE NORTHWEST YOUTH LEADERSHIP SUMMIT
This Fall, my friend Billy from the National Park Trust contacted me and told me about the Northwest Youth Leadership Conference in Seattle, WA. I trusted that Billy knew what the summit was all about, so I quickly signed up. The free, two-day conference was for 150 young adults between the ages of 14 and 26. The first day was dedicated to field trips in the local area, and the second day was the actual summit.
My trip did not start as smoothly as I had hoped due to many flight delays. It was 2:30 in the morning when my Dad and I finally got to Seattle, on the first day of the summit. After getting a few hours of sleep, I was ready to begin the field trips!
The first field trip of the Summit was to a ropes course at Camp Long, which is where the first American to climb Mt. Everest, Jim Whittaker, learned to climb. I had no idea that Mr. Whittaker had
trained there, which was really exciting.
The original plan was to do the low ropes course, which did not require any safety ropes. However, because our group was so small, our group leader decided to put us on the forty-foot tall high ropes course instead. Buddy Bison and I looked at each other nervously; we hadn't planned to go on a giant course like that. Yet, we put on our helmets and harnesses and hiked over to the course.
We started by practicing clipping into the safety wires that would hold us up. After that, we walked on a long wire out to all of the challenges. A great feature of the course was how it was set up. It was shaped like a spider web, allowing you to choose which challenges you wanted to do. There was everything from zip lines to moving wooden boards. This ended up being extremely fun, and Buddy and I enjoyed every second of our time there.
After our trip to Camp Long my family and I went on an exciting field trip to Klondike National Historical Park on our own. This park preserves the history of the 1897 Gold Rush in the Yukon province of Canada. We started at the Visitor Center, which had great interpretive displays. There were exhibits on the equipment that prospectors used, the routes "stampeders" took, and even some exhibits on the significant figures that participated in the gold rush. The dedication people needed to succeed back then was amazing; they traveled through freezing snow, bad weather, and tall mountains.
After taking a quick look at some of the exhibits, we were introduced to Ranger Kelsey gave us a tour of the park with Ranger Jane. We were completely surprised to learn that our tour group was just Buddy Bison, my Dad and me! Ranger Kelsey gave us a presentation on the effects of the Klondike Gold Rush in the United States as a whole, and Seattle in particular. In her opinion, there are four things that make a national park; history, culture, nature, and people. On the tour, each stop represented one of these things. It is surprising how much there is to see there–you would never guess that many of the buildings are important to the history of Seattle! Ranger Kelsey's presentation was amazing, and pointed out many incredible things that we would never have spotted ourselves. You may be wondering, why does Seattle have a national park dedicated to a Canadian gold rush, for the answer, you will have to visit!After the tour was over, we went back to the visitor center, where we were introduced to Superintendent Charles Beall, who was also at the summit the next day. I gave Ranger Kelsey her own Buddy Bison and she squealed with delight. We also met Ranger Kayla, who would be my group leader at the summit.
Buddy and I had no idea what to expect from the summit, but we were very excited. The summit was held at an incredible rock climbing and mountaineering center called The Mountaineers Seattle Program Center. There are incredible artificial indoor and outdoor climbing walls and even some real basalt rock to practice climbing on. Just before the summit began, Buddy and I checked in and my dad started to explore the area. There, we met up with Ranger Kayla again, who like us was really excited.
Each summit group was named after a nearby mountain peak. My group was after Shuksan. I think this name represents the journey we will have to take to take to become a ranger; they both require training, perseverance and dedication. The summit began with a huge welcome ceremony, with all the participants in a large hall. Then, we all were able to choose a breakout session,
which were hour-long classes about a certain topic. There was everything from career planning to team challenge courses. Everyone chose three breakout sessions. I chose a session about becoming a ranger, a session on the effects of climate change in Mount Rainier National Park, and climbing on a huge rock-climbing wall.
After the three breakout sessions, it was time for one of the main attractions of the summit, the opportunity fair. This was an event for us to meet with a huge number of outdoor related organizations. Several of these groups offered internships and other opportunities for young people who want to pursue a career in the parks. There were many different national parks represented, including Klondike Gold Rush National Historical Park, Mount Rainier National Park and the Lewis and Clark National Historic Trail. There were also Forest Service Rangers but we didn't get to see Smokey Bear on this visit. Many local and national non-profit volunteer groups were there as well, offering a wide variety of different opportunities.
The final activities were large group discussions about different topics; Buddy and I chose to participate in a discussion about how to connect people who have never experienced the outdoors with park related opportunities. When the summit ended Buddy and I said goodbye to Ranger Kayla and our other new friends.
The Northwest Youth Leadership Summit was a great experience, and addressed one of the biggest challenges for the parks; getting the next generation of park enthusiasts involved in creating the next generation of park stewards. It is important to engage the next generation, whose responsibility it will be to take care of our parks in the future. Events like the Northwest Youth Leadership Summit give an opportunity to youth to get involved and chart a career path in the parks. It was great to meet so many amazing people who are working to protect our parks, and to meet other like-minded young adults interested in working in our public lands.
I think happiness and success comes from following your passion. In the parks, there are almost endless opportunities to pursue your passions, either as a volunteer or as a career. Buddy Bison and I will be looking for other Youth Leadership Summits and we hope to see you there!
THE SEARCH FOR MOOSE IN ROCKY MOUNTAIN NATIONAL PARK
My parents, Buddy Bison, and I have always wanted to see a moose. We would search every place, in every park, that had them, but we never saw them. That is, until this summer.
At the beginning of the summer we made plans to visit Colorado and Utah to check out their National Parks. I asked a few people where I could find moose, and they all said Rocky Mountain National Park. Buddy and I couldn't wait to finally see our moose. When we got to the Park, we were greeted by our friends @naturetechfamily. They told us that the west side of the park was the best place to find moose.
The next day, we began our journey by heading over the mountains. On the way, we found one creature that we hadn't expected, the yellow-bellied marmot. The marmot is an interesting creature because it will just lie down in the middle of the road and wait until a car is right next to it before it leisurely moves off the road.
Later in the day, we finally got to the other side of the mountain and took a look at the huge meadows—perfect moose country.
We quickly made our way to the visitor center to ask if any of the rangers had seen a moose. As soon as we got there, an excited visitor walked in and told us that there was a moose right along the trail outside the visitor center. We immediately set out to see if the moose was still there. After walking down the trail a bit, I saw what looked like a big patch of tall grass. I looked closer at it and realized that it was the moose resting on the ground! The moose stood up and started eating the leaves of a bush and surrounding trees and then walked a little bit closer to us. We noticed this and started to slowly back away, we wanted to make sure to stay a safe distance. The moose then decided to start eating the bush next to the trail we were on. We had time to watch and enjoy this amazing animal and took many pictures. On our hike back, we all had huge smiles, we had finally finished our quest to find a moose.
EMPOWERING YOUNG PARK STEWARDS AT CABRILLO NATIONAL MONUMENT
This year for Kids to Parks Day the National Park Trust invited Buddy Bison and me to an interview with Whitney Southwick at NBC7 San Diego. We were there to talk about Kids to Parks Day at Cabrillo National Monument (San Diego, CA).
A few days before the interview, I was not sure what Cabrillo National Monument had planned for Kids to Parks Day, so I contacted my friend, Ranger Alex. I met Ranger Alex when I was volunteering at Channel Islands National Park—she is a scuba diver, scientist, and she loves working with kids. She said that Cabrillo National Monument didn't have much planned for Kids to
Parks Day, but she would like to help set up some fun activities. I was very pleasantly surprised about how enthusiastic and excited she was to participate in Kids to Parks Day. In just a few days, she had managed to set up a special booth with science games, junior ranger booklets, and other fun activities.
The day after the interview was Kids to Parks Day, and Buddy Bison, my cousins, and I rushed over to Cabrillo National Monument where we met up with Ranger Alex. She showed us around and let us run the science booth for the day. This Kids to Parks Day was one of the busiest I have ever been to. We were able to talk to a lot of people about the park. At the end of the day, we met with Ranger Alex and I found out that she does other very amazing activities at the park.
Ranger Alex has helped set up some special summer camps like the EcoLogik Project. The EcoLogik program is a hands-on science camp that connects young ladies to nature and technology. This program is offered free of charge to increase access and promote inclusion for girls from underrepresented backgrounds pursuing scientific fields. A few weeks later, Ranger Alex invited
me to Cabrillo to talk to some of the kids in the Ecologik camp. When I got there, I found that they had set up an entire event to talk about what they did. The great thing about this camp is that the kids don't just learn about science and nature; they get involved in REAL science that park rangers do everyday! Even better, the camp is free to enter and it tries to reach out to under-served communities. I was very impressed with all of the knowledge that the kids gained over two weeks of the Ecologik camp. They learned everything from animal telemetry to aquatic animal identification. This camp shows what the next generation of park rangers and visitors might look like. Ecologik gives these kids the tools for success.
Later that same day I interviewed Ranger Alex about the Program.
What is your name? – Alexandria Warneke
What is your job in the NPS? – Science Program Coordinator and Marine Biologist
What park do you work at? – Cabrillo National Monument, San Diego, CA
What is your favorite part of your job? – I enjoy inspiring others to see the park in a new way and connect them to something they never thought about, or a different part of nature, to really get that "WOW" factor of why they would want to come back and preserve and protect their National Park.
Why is it important to get kids outdoors and involved in activities? – I am really impacted by the idea of 'legacy'- that something is so incredible, powerful and/or beautiful that people cared enough about it that they wanted to protect it so that others could see too. I think getting kids outdoors connects them to this idea, to their legacy. My job is to make sure that they too are inspired enough to care.
I have heard that you have set up some special summer camps and activities, would you describe a few? – My team and I are constantly coming up with new and fun activities, but most recently we have just hosted our second year of our summer camp – The EcoLogik Project. This is a two week summer camp for young ladies in science and it's purpose is to connect them to nature through the lens of technology. In collaboration with our partners, we teach these students how to ask ecological questions within the context of the park and solve environmental problems using the innovative and game changing technology accessible at our fingertips. It is through this framework that we are providing them the tools to be the next generation of park stewards.
Why are these activities important? – So all the activities we do in the EcoLogik Camp are the actual ways we collect data in the park as scientists, so we don't water it down at all. We don't change it. We give them the same tools we are using because kids are fully capable of understanding as long as you make it relatable and provide them a reason to care. These girls are learning the same methods we have used to collect data for the last 30 years in the tidepools. They are learning how to track snakes in the Park using telemetry and why that matters and what does the data mean. So often in schools kids learn how to read graphs, and how to put data on a chart, but getting that context of what that data really means ecologically, what does it mean for the earth, what does it mean for the National Parks is what makes this camp a little bit different.
What materials did you create to for the programs? – We focus on creating fully science integrated materials. We believe that students of all ages are more than capable to understand how we collect data and make inferences into what that data means. We strive to create materials that make science relatable.
How long have you been doing these activities for? I have been with the Park Service for four years. Before that I was a research scientist with San Diego State University and science communication and education consultant.
What are the benefits of these programs? National Parks are all about creating connections, people want to feel connected to the resources, to the stories, to the science. Through our program we strive to connect to people where they are- whether that be in the park or in the community.
Do you think other parks should have similar activities in their local area? – I am constantly inspired by the other units in the National Park Service. I have never met more passionate, hardworking people. I think each park finds it's own way to connect with their community best.
What advice would you give to another ranger if they want to set up similar activities? Keep Calm and Adapt On. You must often champion your own projects and sometimes this can be intimidating and there can be many hurdles, but keep your head up, be adaptable, and push forward. You will succeed.
BUDDY BISON STUDENT AMBASSADOR PARTICIPATES IN THE PARKS AND TECH CHALLENGE
I love volunteering and trying to find ways I can help the National Park Service (NPS). One of the biggest problems facing the national parks is deferred maintenance. Deferred maintenance is like when all the floorboards in your house need to be fixed but you only have enough money to do one room. And while you try to earn more money for the floors, other things start breaking down like your bathrooms or your stove, and the whole time you are trying not to fall into the basement! In the NPS, is it is such a big problem that over 11.3 billion dollars worth of repairs have been delayed, from small things like their bathrooms to even the Statue of Liberty, which has over 160 million dollars in needed repairs. Because of this problem park rangers, visitors, and other park enthusiasts have come together to find solutions to this problem.
Buddy Bison and I joined the Parks and Tech Challenge at Golden Gate National Recreation Area with my family for two days this February. It was really inspiring to see so many people working to find ways to help our parks. The Pew Charitable Trusts, and Civic Makers sponsored the event I was so happy to see how incredibly dedicated they are to this cause.
I chose to participate in the "Improving the Visitor Experience" category and started a group that became "One Park" (pictured right). My parents started another group, "Team VIP." My group was designing an application for smartphones that would be a one-stop shop for everything parks related. This would include: digital junior ranger programs, maps, park information, campground reservations, plant and animal identification, and ways to report park problems to park staff. This system would save the parks money by reducing printing costs and park waste, and create better visitor experiences without increasing park staff. I had a great group and made many new friends.
I was also very happy to see two people I really admire come into the room when it was time for judging, Grace Lee with the National Park Trust and former National Park Service Director Jonathan Jarvis (pictured above). We were all very excited to see each other. It was an honor to be selected by my group to be one of the presenters. We did not win the challenge, but I think we will all be winners because we came up with many great ideas for Pew Charitable Trusts to take to the Department of the Interior.
Read more about the Parks and Tech Challenge on The Pew Charitable Trusts' blog article, "The Kid Who Cares About Fixing Our National Parks."
A WASHINGTON, D.C. ADVENTURE WITH BUDDY BISON
Buddy Bison and I recently traveled to Washington, D.C. for an incredible adventure. We started by meeting with the National Park Trust and Junior Ranger Bryan and his family. Our next stop was to an amazing park that all visitors to Washington, D.C. should visit, Rock Creek Park. While we were there, Bryan and I sat down for a really interesting interview with Superintendent Julia Washburn:
1. What is your name?
​Julia Washburn​
2. What is your job in the NPS?
​Rock Creek Park Superintendent​
3. Rock Creek Park was the third national park and was created in 1890, what makes Rock Creek Park unique?
​Rock Creek Park manages 3,000 acres of green space in Washington, D.C. including a 1,700 acre Deciduous Forest ​in the heart of the city. I like to think of the park as a microcosm of the National Park Service, we have wonderful natural resources as well as numerous cultural sites including Fort Stevens, a Civil War Battlefield.
4. What is your favorite animal in the park?
​I love the foxes, but I think I have to pick the coyotes as my favorite because I think it is so unique to have coyotes in the middle of a city!​
5. We have heard a lot about deferred maintenance, what challenges does Rock Creek Park face?
​Rock Creek Park has $52 million dollars of deferred maintenance needs. Really the infrastructure of the Park Service is in great need of repair and rehabilitation. We are very grateful to have the money now to reconstruct Beach Drive, the most scenic road in the park and an important commuter route for D.C.​
6. You were the Associate Director of Interpretation, Education, and Volunteers at the National Park Service, what can you tell us about the future of the Junior Ranger Program?
I think the Junior Ranger program is strong and will continue long into the future. It is a wonderful program for kids and families and very important to the public. I was a Junior Ranger here at Rock Creek Park when I was 7 years old.​
7. What were some of your favorite ranger stations before you became Superintendent?
​Rock Creek Park is my favorite park and always has been, but I really love Crater Lake as well. I think it is such a beautiful and magical place. I also love the red rocks of Arches and Canyonlands out in Utah.​
8. How many years does it take to become a Superintendent?
​That all depends. It took me 27 years, but I know some superintendents that only took about 10 years to rise to the park manager level. It just depends on what path your career takes you.​
9. What do you hope to accomplish as Superintendent of RCP?
​ I have four priorities as Superintendent: 1. Stewardship–this park has thrived for 128 years and I want it to be healthy and strong on my watch; 2. Access–all people deserve easy access to this park and should feel welcome here, I want to make sure we have great transportation options to the park, outreach programs, and that we create a welcoming environment here for everyone; 3. Community Engagement–Rock Creek Park is part of the greater Washington, D.C. community and I want to make sure we are good neighbors, are responsive to the public, and actively engaged in the community; 4. Employee Engagement–Everyone who works here deserves to feel great at work and be happy to be a civil servant, I want to make sure that management at the park is responsive to employees and that we create a positive work environment for all.
10. In your opinion, what is the ideal National Park Service? What things could the NPS do to improve?
The easy answer is we need more money to do our job properly. We are not funded as well as we should be in order to take care of these places the way they need to be taken care of. I think the Park Service could do a lot more to support its employees and create a better environment for our employees. For example, if you want to be a superintendent, it should be easy for you to know how to go through the process to become one. People should feel like the park service really supports them and that we are creating a healthy environment for people to work in, a better culture for the organization.
11. What can visitors do help the national parks?
Visitors can do a lot. First of all, people impact the parks and there are things you can do back home to care for the environment. One of the most important things you can do is live a sustainable life and to not impact the environment as much as we have been as a population. By just living your life in a way that you're recycling, that you're planting native gardens, pollinator gardens that you're making sure that you're taking care of your storm water that runs off your roof and your driveway. How is that storm water managed? All of those things that help you live a sustainable life. That's a really important thing you can do to help your national parks. You can also volunteer. We really need volunteers, as you know we have a lot of volunteers in the park service. We can't run the park service without volunteers. You can give money to a friends organization or the National Park Trust or the National Park Foundation. You can be part of an organization that advocates on behalf of the park service. You can join a friends group and come and do volunteer work with the friends group or help out in the community to promote the parks. There are many ways private citizens can help the Park Service.
We had several other really great national park visits including: Ford's Theatre NHS, Belmont-Paul Women's Equality NM, the Washington Monument for the Cherry Blossom Festival, Theodore Roosevelt Island, Kenilworth Park and Aquatic Gardens, Frederick
Douglas NHS and then I volunteered at the Ellipse in President's Park with the National Park Trust and Buddy Bison for the White House Easter Egg Roll.
I am very grateful for the opportunity to volunteer with the National Park Trust and fellow Buddy Bison Ambassador Bry at the White House Easter Egg Roll. It was so great to see the kids' reactions to Buddy Bison while they were standing in line and it was very nice of Superintendent John Stanwich to take us on to the South Lawn. I hope that because of National Park Trust's efforts, more kids will be able to experience our national parks.
As I stood in front of the Martin Luther King, Jr. Memorial, I reflected on my own dream, that one day every child will visit our national parks.
VOLUNTEER SEASON IN FULL BLOOM
Our National Parks help protect America's native plants and animals. Buddy Bison Student Ambassador Tigran Nahabedian volunteers at Channel Islands National Park in Ventura, CA, and recently helped restore Anacapa Island with classmates from the Ojai Valley School (Ojai, CA). Tigran and his fellow students helped remove the invasive red-flowered iceplant from the Island, and replanted affected areas with native plant species. Read about Tigran's restoration project below:
It is the mission of the National Park Service around the country to preserve, protect, and maintain our national treasures. Our national parks are as American as our flag, just consider Mount Rushmore, the Statue of Liberty, Fort McHenry and the flag that inspired the Star Spangled Banner, the Liberty Bell, Mt. Denali, and the beautiful Yosemite Valley. This makes restoring native plants and wildlife a high priority and everyone's responsibility, especially this generation's.
Reintroducing native plants helps native animals find food and shelter, which will in turn increase the variety and number of animals you will see. That is why Buddy Bison and I decided to go to Channel Islands National Park, to help their restoration efforts there.
Buddy Bison and I joined with Ojai Valley School (OVS) as part of NEEF's Hands on the Land program on an Island Packers boat across the Santa Barbara Channel, heading straight for
Anacapa Island. Our mission was to remove invasive iceplant, to make room for native plants. Anacapa Island is an essential nesting ground for seabirds. Before Channel Islands National Park was established, Anacapa Island was owned by the Coast Guard, who built a lighthouse to make sure passing ships didn't crash into the island. They also planted iceplant, a plant from South Africa, to help with landscaping and erosion control. Sadly, it did the opposite and spread around the island. It also absorbed a high amount of water needed by native plants; and it made the surrounding soil saltier, making it even harder for native plants to grow. Those are some of the reasons why Buddy Bison and I wanted to help the Park remove iceplant from Anacapa.
As soon as we reached the island, a few park volunteers, OVS students, Buddy Bison, and I were led to the area where we would be working. It was filled with many large patches of iceplant. After removing the patches of iceplant, we prepared for the next step, reintroducing the native plants.
Removing iceplant is a good thing for the ecosystem, but it leaves nothing to hold the soil down, and that is why Channel Islands National Park installed a greenhouse on the island specifically for the purpose of growing native plants. This means that the native plant seedlings will have a safe place to grow that is right near the areas where work needs to be done.
A few months later, on another OVS Hands on the Land trip, Buddy Bison and I hiked up to the greenhouse and walked inside. The entire room was filled with plant seedlings waiting to be planted into the ground. We all grabbed the potted seedlings and walked in the rain to the plot where we were working. We then took the seedlings out of the pots and placed them each in their own spots. After that, it was time to go on the boat—Buddy Bison and I slowly watched the seedlings we planted get smaller and smaller in the distance. Even though we got wet and muddy, we had a great time.
The following year on a Channel Islands Park Foundation trip, my good friend Linda Mohammad from National Park Geek, some other volunteers, California Institute of Environmental Studies (CIES) staff, Buddy Bison, and I helped plant more seedlings. Many of the plants in the plot were not seedlings anymore; the whole area had grown and was looking quite healthy.
On another OVS trip, we got to work on a different island, Santa Cruz Island. This time, we were removing invasive cheese weed, which was introduced during the island's ranching history. My group did this over a period of two days on a multi-day camping trip.
There are many challenges the national parks are facing, including: differed maintenance, an insufficient amount of staff, and the difficulty of protecting native species. Buddy Bison and I are very optimistic about the future. There isn't a challenge in our national parks that we can't fix. We need your help. If you love the parks, I encourage you to find a little time to volunteer and get involved: https://www.nps.gov/getinvolved/volunteer.htm
ONE SMALL STEP FOR BUDDY, ONE GREAT LEAP FOR BISONKIND
By: Tigran Nahabedian (Photos courtesy of Ojai Valley School)
When people think of bison they think of rolling hills and grassy plains, or perhaps even the bison on the National Park Service arrowhead. There is one bison, though, that is WAY different. This bison meets with members of Congress and Cabinet Secretaries, travels through national parks and historical sites, and has even grazed in the White House garden. He is also an extreme athlete whether he's rock climbing, diving with world famous oceanographers, or pushing new heights.
On May 11, 2017 at 6:53 am PST, Buddy Bison entered his capsule and secured his place in history as the first bison in near space. Mission control for this launch was Ojai Valley School, led by a fantastic team of middle school students under the supervision of Mr. Mike Mahon, assistant head of school.
Launching Buddy Bison into space was a natural fit for Ojai Valley School (OVS) because community service and outdoor and STEM education are key principles of student life at OVS. Mike Mahon said, "We all love outdoors and we all love science."
This was the third year anniversary launch of Project X at Ojai Valley School, a program where students launch camera equipped capsules with the approval of the Federal Aviation Administration and missile command at Point Mugu Naval Air Station.
This year broke all records; Buddy hit a record height of over 100,000 feet and had magnificent views of Channel Islands National Park, Santa Monica Mountains National Recreation Area, Los Padres National Forest, the Sespe Condor Sanctuary, and Carrizo Plain National Monument.
The students behind this historic launch were Eugene, Tajmana, Zachary, Tim, Max, Josh, Jenny, Gao, Hayden, Vicky, Adam, and Grace, all students from 6th to 8th grade. The students showed great enthusiasm and were almost without words as the capsule raced into near space. I am pleased to report the mission was a complete success. Buddy Bison had a perfect touchdown and was greeted by the OVS recovery team. The students gave him a hero's welcome as he returned to campus.
I am grateful I was able to report on this launch and hope to join the Project X team in 2018.
AN ISLAND ADVENTURE: 25 YEARS AS THE ISLAND RANGER ON SAN MIGUEL ISLAND
By: Tigran Nahabedian (Photo courtesy of Vahagn Nahabedian)
Buddy Bison and I took a trip on an Island Packers boat to San Miguel Island, the most remote island in Channel Islands National Park. As we passed the other four Channel Islands we saw a blue whale, hundreds of common dolphins and sea birds that call the Channel Islands their home. We made the trip to experience life as an island ranger and to interview Ranger Ian Williams who has spent the last 25 years working and living in this wonderful place.
After bringing our gear to the ranger station, Ian gathered us to train us about unexploded ordnance safety. It is very important for all visitors and staff to stay on the trails and not pick up any objects on the island. This is important because the island used to be a Navy bombing range.
Daily duties of a San Miguel Island ranger start with raising the American flag at the ranger station, logging weather data, water usage and supply, posting a weather report for the visitors, cleaning and resupplying the restrooms, and interacting with the visitors in the campground. Later, there are ranger-guided hikes because visitors must hike with a ranger at all times on San Miguel Island. On the guided hikes, rangers use fox telemetry units to record data on the island fox. After the hikes, there are plenty of maintenance jobs on the island to be completed by the ranger. I cleared invasive plants, recovered old survey ribbon, tracked island fox and even got to document the location of historic artifacts.
Buddy and I were very lucky to visit at the same time that Betsy Lester was on the island. Betsy Lester spent her childhood on the island and you can read about it in her book San Miguel Island: My Childhood Memoir 1930-1942. She shared many great stories of her childhood with us, which is very special to me because it is rare to get the opportunity to meet people who have experienced the islands before they became a national park.
San Miguel Island is famous for its large seal and sea lion colonies that no photo can truly capture. I saw thousands of animals lying on the beaches. The abundant wildlife on and around the islands is what makes the Channel Islands truly unique.
There is no better person to talk about San Miguel Island than Ian Williams who has amazing knowledge!
What is your name?
My name is Ian Williams
What park do you work at and what is your job?
I work at Channel Islands National Park where I am the San Miguel Island Ranger
How long have you been working here?
I have been working here for 25 years
How long do you stay here?
I stay here for a week at a time so my schedule is I work nine days on and five days off with eight of those days here on the island working nine-hour days and then I go work an eight-hour day at headquarters, take five days off, and then come back out and do it all over again.
So, when not on the island, do you work on the mainland?
So, I have my headquarters day and a little bit of time on my transportation days before I go out or after I go back in when I catch up on projects, meet with people, pick up supplies and stuff like that.
What do you most enjoy about your job?
I enjoy the fact that it is an old time generalist ranger position that's a true backcountry ranger job where I am living someplace that's really remote, someplace that is really hard to get to. You know, when people come out here they really appreciate the fact that they made it all the way to San Miguel Island. I also enjoy that in my job I get to do a little bit of everything. I do the law enforcement. I get to lead hikes. I work with researchers. I do all the maintenance work. It's an old time jack of all trades ranger position.
What would you say is the hardest part of your job?
Ah, the hardest part is probably getting here. So, at San Miguel we fly out to get here. We charter an airplane from Channel Islands Aviation, but San Miguel is a pretty windy, foggy place and the weather doesn't always cooperate with us. You may wait two or three days to get to or from the island. So I find it kind of refreshing in some ways at even the almighty federal government can't come and go as it pleases. It's up to nature whether we get here. In that respect, it's the ultimate wilderness.
Why should a visitor come to San Miguel Island?
Oh, gosh there are lots of reasons it all depends on what their interests are. For someone that's seeking solitude, it is an incredible place to come and camp. We have got one camper on the island right now who is the only camper in the campground. You know he's got all of the beach at Cuyler Harbor all to himself, so the kind of solitude you can get here is really remarkable. It's also an incredible place for wildlife, especially for seals and sea lions; it's probably the only place where you find six different species of seals and sea lions. On a typical day, you can take a hike to Point Bennett and see three of them out there pupping and breeding during the season.
San Miguel is one of the least visited places in the park. How many visitors come every year?
Well, I figure we usually we get somewhere between one hundred and two hundred people that would stay in the campground (the last couple years obviously we haven't because the island was closed for a while) and private boats and boaters that come out with Truth Aquatics on multiday trips. If we add it all together I figure we have got about a thousand individuals that might set foot on San Miguel in the course of a year.
What piece of advice would you give the next ranger who comes here and does this job?
Well, I would say keep your eyes on the future and stay in touch with the past. You know, we have had rangers on San Miguel for forty years now and we have got log books that go back all forty years, so read the old log books, get to know the people who came here before you, stay in touch with the traditions and know that to be a good ranger on San Miguel you have got to be a generalist.
TIGRAN'S TRAVELS WITH SECRETARY OF THE INTERIOR RYAN ZINKE
Our Buddy Bison Student Ambassador, Tigran Nahabedian, was recently invited to give a special tour of Channel Islands National Park to the new Secretary of the Interior, Ryan Zinke. In addition to learning about the wildlife and history of the islands, Tigran and Secretary Zinke discussed the importance of our nation's parks and ways to improve them for the future. Read about Tigran's account of their meeting below:
"On April 17, 2017 Commander Ryan Zinke came to Channel Islands National Park to learn about the islands, wildlife, history, its use and to talk about how he is going to make the parks a better place. Commander Zinke has the authority and power to help the national parks because he is the Secretary of the Interior. I became interested in Commander Zinke when he was nominated to become Secretary of the Interior and I started to research him, I read his book American Commander and everything I could find about him on the internet. He was the Commander of Seal Team Six, a congressman from Montana and he enjoys hunting and fishing.
I wrote him a letter in January before he was confirmed as Secretary of the Interior and said that I was very excited he was going to solve the deferred maintenance issue in our parks. Deferred maintenance is when something falls into disrepair like a dock or a road and the park managers say we will fix it later because we do not have the money now. It is a huge problem with over 12 billion dollars in needed repairs.
Our national parks are as American as our national flag. Just consider Mount Rushmore, the Statue of Liberty, Fort McHenry and the flag that inspired the Star Spangled Banner, the Liberty Bell, and the battlefields that shaped this nation: all of these places are national parks.
Secretary Zinke wrote me a letter and invited me to give him a tour of Channel Islands National Park.
We left from Santa Barbara and went to Prisoner's Harbor on Santa Cruz Island. We saw dolphins and sea lions on the crossing and I spent the trip across the channel talking to the Secretary, his wife, his staff, rangers and other visitors. I was one of the only people outside of his staff that knew he was going to the islands and it was really special to me because it was National Park Week.
I was able to talk to the Secretary about the recovery of the island fox, the fastest recovery of a mammal under the Endangered Species Act. I gave him a fox photograph to remind him that when we put our minds to solving a problem we can achieve great things with strong partnerships.
We also discussed the deferred maintenance issue, and I showed him pictures from the Channel Islands National Park and Tule Spring Fossil Beds National Monument. Tule Springs is a new National Monument and for years people have dumped trash on the monument lands. The Secretary agreed that this is an easy problem to solve and must be solved.
I left the Islands and returned home feeling that the National Parks are in good hands and confident that the Secretary will help the parks to the best of his ability. His role model is Theodore Roosevelt, and he is fond of quoting the Roosevelt Arch at Yellowstone that the parks are for the 'Benefit and Enjoyment of the People.' I am looking forward to working with him again in the future. As Secretary Zinke says, 'We all rise and fall on the same tide.'"
EXTRA DESERT PLEASE
Our Buddy Bison Student Ambassador, Tigran Nahabedian, knows that winter can be an exceptional time to visit national parks! Tigran and his family recently took me on an adventure to several national park units in Arizona. Read about some of Tigran's trip highlights below:
Buddy Bison loves adventure and we had some great adventures this winter in Arizona, where my grandmother lives. I love Arizona and Arizona is a great place for junior rangers. They even have their own Junior Archeologist booklet that lets you collect rockers. We packed our bags and after many hours of traveling, found ourselves in Organ Pipe Cactus National Park.
We didn't know much about Organ Pipe Cactus National Park before we got there and we weren't alone. A ranger told us a story of a superintendent that missed the park and drove into Mexico. We pitched our tent and that night heard javelinas outside the tent. We learned that javelinas are peccaries, not pigs.
The next day we got a junior ranger booklet and went on a very bumpy scenic drive. Along the way, we stopped every time we saw water to look for tracks and we saw some good ones including a mountain lion! The mountain lion had been spotted in the area and this one had BIG paws. I love all the desert vegetation but at this park all the wildlife was out at night. Buddy wouldn't have enjoyed eating there—not much grass and lots of thorns.
Buddy and I were recognized from the Subaru Share the Love commercials. Everyone had nice things to say and were very supportive.
Next we went to Coronado National Monument and my mom got to wear a full suit of armor. It took two people to help her put it on and take it off. Can you imagine having to wear that every day?
Another great park near Sierra Vista is Kartchner Caverns State Park. This is a must-visit cave and offers one of my favorite cave tours. You must see Kubla Khan because it is enormous!
One of the highlights of the trip was visiting the Petrified Forest National Park. There is so much more than I expected. The petrified wood is beautiful and I saw some amazing pieces. What I didn't expect were all of the Native American cultural sites and I particularly liked the incredible petroglyphs.
Also, we visited three national monuments that I really enjoyed—Walnut Canyon, Sunset Volcano Crater and Wupatki. These three monuments are really close together and I think they should combine them to make a single national park. The number of cliff dwellings at Walnut Canyon was incredible. At Sunset Volcano Crater, I saw an interesting squirrel with long rabbit-like ears called the Abert's squirrel. Wupatki had many clay-colored pueblos and I was fortunate to meet Astronaut Bo Bobko there.
The last park we visited was the Grand Canyon National Park. This was the first visit for my mom and she loved it. Grand Canyon never disappoints. When you visit there in winter, I would recommend going to El Tovar Lodge to enjoy a nice cup of hot chocolate.
Some people wouldn't consider camping in the snow but it can be a ton of fun! Just remember to dress in layers, have warm sleeping bags, and bring your fuzzy Buddy Bison.
(Above photo courtesy of Vahagn Nahabedian.)
AMBASSADOR TIGRAN: CHANNEL ISLANDS' HERO
Tigran Nahabedian, our first Buddy Bison Student Ambassador, does more than just go on adventures with me! Find out what he did below!
"The Channel Islands National Park (CHIS) and Channel Islands National Marine Sanctuary are important to me because they changed my life. I first visited and became a junior ranger when I was five years old. For the last two years, I have volunteered with the National Park Service and was honored to represent Let's Move! Outside and Every Kid in a Park. Because of this, I met the National Park Trust (NPT) and became their first Buddy Bison Student Ambassador. As an ambassador I really wanted to help CHIS because it was where my journey began. I joined the Channel Islands Park Foundation and told NPT how I wanted to do something for "my" park. They said they could help but I never expected how much they would do!
GIVING PARKS A HELPING HAND: TIGRAN SHOWS US HOW
Tigran Nahabedian, our first Buddy Bison Student Ambassador, wants you to "give parks a helping hand!" Tigran has always been a dependable volunteer at his local park, Channel Islands National Park, but this year has been a special year for all National Park Service volunteers. NPS has challenged volunteers to work 201.6 hours during the Centennial year! Tigran has already gifted 100 hours of his time for this special cause:
"I love our national parks and the challenge is very important to me because I'm trying to get more kids to the parks.
Recently, I started working in the Channel Islands National Park Visitor Center. I get to hand out Junior Ranger booklets (nothing makes me as happy as seeing smiling kids when I award them their Junior Ranger badges). I work at a touch table and let visitors handle whale baleen, kelp holdfasts, shark eggs and a really cool Chumash clapping stick. At the tide pool tank, I get to help teach people about the sea creatures and pass out squid to visitors so they can feed the fish.
You can volunteer at your national parks too. You can lend a helping hand in beach cleanups, or help maintain trails and take people on hikes, or maybe even scuba dive for a park like my dad."
Want to know more about his park experiences? You can follow Tigran: @JrRangerTigran. Thank you Tigran for being a terrific park steward!
BUDDY BISON CELEBRATES KTP DAY UNDERWATER WITH SYLVIA EARLE
Across the country, Buddy Bison Student Ambassador Tigran Nahabedian, pictured to the left with Dr. Sylvia Earle, traveled with 45 students to Channel Islands National Park (as part of Channel Islands Park Foundation Island Academies program) to celebrate Kids to Parks Day and the Centennial BioBlitz. Dr. Earle, an American marine biologist, renowned oceanographer, and National Geographic Explorer in Residence, participated in a live dive – with Buddy Bison(!) and talked about the importance of our oceans and the responsibility that we all have to protect them. I was ecstatic to join her for the dive as we both explored the incredible underwater kelp forests. We even met a few other marine friends along the journey. On top of all that, the live dive was streamed to the National Mall so kids and families on the east coast could come along for the adventure.
You can follow Tigran through social media on Twitter and Instagram (@JrRangerTigran). You can also follow my adventures on Facebook, Twitter, and Instagram (@NationalParkTrust).
TIGRAN'S TRAVELS: THE CENTENNIAL VOLUNTEER CHALLENGE
Between work and play, our Buddy Bison Student Ambassador Tigran Nahabedian had a momentous and magical March! While volunteering his time at Channel Islands National Park, Tigran had many opportunities to share the importance of this unique national park with kids and adults. He even met Department of the Interior Secretary Sally Jewell, Park Superintendent Russell Galipeau, and Congresswoman Lois Capps who represents California's 24th district! Read more about Tigran's magical March below:
March was magic. I did so many wonderful things in the National Parks. I am working toward the Centennial Volunteer Challenge, 201.6 hours of volunteer work in the National Parks in 2016. My whole family has become park volunteers.
My whole fifth grade class also became volunteers and helped remove invasive iceplant from Anacapa Island. My class is part of the Hands on the Land partnership, a partnership between Channel Islands National Park and Ojai Valley School. Water is very scarce on Anacapa Island and it is very hard for the native plants to compete with iceplant.
I went to work at a fundraiser for Channel Islands Park Foundation. We are raising money as part of our Island Academies Initiative to bring children to the Channel Islands and to the visitor center. Channel Islands Park Foundation is partnering with the National Park Trust and is using some of the money to bring children to the park on May 21 for Kids to Parks Day.
But this month was not all work. I went on a road trip with my family to Carrizo Plain National Monument, Point Reyes National Seashore, San Francisco Maritime National Historic Park, Rosie the Riveter WWII Home Front National Historical Park and John Muir National Historic Site. San Francisco is a great area for junior rangers because there are so many excellent junior ranger programs all very close together.
Thank you Tigran! You can follow Tigran through social media on Twitter and Instagram (@jrRangerTigran). You can also follow my adventures on Facebook, Twitter, and Instagram (@NationalParkTrust).
TIGRAN'S TRAVELS: SAVING THE RARE ISLAND FOX
Tigran Nahabedian, our first Buddy Bison Student Ambassador, recently took me on an incredible trip to the Santa Barbara Zoo to learn about and help save the rare Island Fox. Read about our adventure below:
"I first met the Channel Islands Fox when I was 5 years old, long before I met Buddy Bison. I took an Island Packers boat to Santa Cruz Island; that will always be a special trip for me because it was on that trip I earned my first Junior Ranger Badge. Very soon after we arrived I saw an Island Fox resting among some old farming machinery. I thought he was so small and really cute. The Island Fox is my favorite animal in the national parks.
The Channel Islands Fox live on six of the eight California Islands. The Island Fox is the only carnivore that occurs only in California and nowhere else. The Island Fox subspecies on the Northern Channel Islands are listed as endangered species; predation by the golden eagle and a virus from raccoons caused the population decline. On San Miguel and Santa Rosa Island there were only 15 foxes left on each in the year 2000. Multiple agencies have worked together and on February 12, 2016 the U.S. Fish and Wildlife Service proposed to delist the Island Fox. This is the fastest recovery of a mammal under the Endangered Species Act.
We were able to help the Island Fox by working at a booth at the Santa Barbara Zoo for Channel Islands Fox Awareness Day. I spoke to almost 500 people about the fox and most of the kids I spoke with will never visit the Channel Islands, so it's important to connect with them at the zoo. Buddy Bison got to wear an Island Fox radio collar that helps track the animals (Now we can find out where Buddy has been so much easier!)."
Thank you Tigran! You can follow Tigran through social media on Twitter and Instagram (@jrRangerTigran). You can also follow my adventures on Facebook, Twitter, and Instagram (@NationalParkTrust).
TIGRAN AND BUDDY BISON LEAD THE ROSE PARADE!
Did you see a familiar face kicking off the annual Rose Parade on New Year's Day morning? Tigran Nahabedian, National Park Trust's first student Buddy Bison Ambassador, was selected to participate in the opening float of the Rose Parade, and he brought me, Buddy Bison, along for the incredible experience! The theme of this year's Rose Parade was Find Your Adventure and the Rose Parade partnered with the National Park Service to celebrate the NPS Centennial and #FindYourPark.
Tigran was also asked by Channel Islands National Park Ranger Dave Begun to help build a virtual float for the parade and of course he said YES! Can you find Buddy Bison on the float that was built by Tigran, his classmates, and teachers? Read Tigran's narrative below:
I knew that Buddy and I couldn't do it alone so I asked my school (Ojai Valley School) if they would help. My friend Mrs. Campbell has been my art teacher since I was a Pre-K student and she was happy to help. Many of the students at my school didn't know much about the Channel Islands so I decided to introduce them to the Junior Ranger program. Ranger Lizzy came to my school to swear in 180 new Junior Rangers after we completed the Junior Ranger booklets. We each got one of the super cool new Centennial badges, which we put on the float. Previously, I had set a goal to help make all my classmates Junior Rangers, so I was super pleased to see every student at my school become a Junior Ranger! You should go to a National Park and get your own Centennial badge too!
We had so much fun building the float and learned so much about the park. The float depicts the adventures waiting for you at the Channel Islands and the natural beauty and resources on the islands and under the sea. The float highlights the partners and programs that help children bridge the Channel to the park including the National Park Trust and Kids to Parks Day. You can help bring under-served children to Channel Islands National Park by donating to the National Park Trust today at https://donate.parktrust.org
What a creative project! Thank you Tigran!
TIGRAN'S TRAVELS: WHERE'S BUDDY BISON BEEN?
Tigran Nahabedian, our Student Buddy Bison Ambassador, recently took me on an exciting trip with his family.Read about our nature-filled adventure below:
"Buddy Bison, my dad, my grandmother and I went to Black Canyon, Lake Mead National Recreation Area on the border of Arizona and Nevada. It was a canoe/camping trip so we had to put all of the camping gear in the canoes. Vans took us and 33 other paddlers from the Hoover Dam Lodge to our launch site below the Hoover Dam. We hauled our canoes into the water and paddled away! Buddy Bison got to swim in 52 degree water! We also had water gun battles! Buddy Bison and I went in caves, jumped into the chilly water, saw lots of birds, and bighorn sheep. My favorite birds were the roadrunners and the blue heron. It took us three days to paddle to Willow Beach. At Willow Beach we unloaded and we went back to the Lodge. Overall, it was an amazing trip! I also read a very funny book before the trip called Hey Ranger and some of the stories took place at Willow Beach and in the Black Canyon."
You can follow Tigran's park adventures through social media on Twitter and Instagram (@jrRangerTigran). You can also follow my adventures on Facebook, Twitter and Instagram (@NationalParkTrust). Use the hashtags #BuddyBison or #WheresBuddyBisonBeen on your park travels.
TIGRAN'S TRAVELS: WHERE'S BUDDY BISON BEEN?
Tigran Nahabedian, our first Student Buddy Bison Ambassador, has some pretty exciting news to share. Do you remember when I celebrated the launch of President Barack Obama's Every Kid in a Park initiative with fourth graders last month? Well Tigran has been selected to represent Every Kid in a Park and will appear in both the Scholastic Instructor and Administrator Magazines. Tigran continues to inspire students around the country to appreciate and protect our parks.
You can follow Tigran's park adventures through social media on Twitter and Instagram (@jrRangerTigran). You can also follow my adventures on Facebook, Twitter and Instagram (@NationalParkTrust). Use the hashtags #BuddyBison or #WheresBuddyBisonBeen on your park travels.
TIGRAN'S TRAVELS: WHERE'S BUDDY BISON BEEN?
Tigran Nahabedian, our first Student Buddy Bison Ambassador, is back with another amazing story to share. Read about his recent trip to Yosemite National Park below:
"Buddy Bison and I went on a vacation to Yosemite National Park. It was a really special trip for me because I have wanted to visit Yosemite for a long time. The first time we couldn't go because of fires and the second time because I was invited to go to the White House garden planting with First Lady Michelle Obama. Yosemite exceeded my expectations. I camped Bridalvail Creek and Wawona – both were beautiful with lots of trees.
I hiked waterfalls, climbed over rocks, slid down rocks (and ruined my pants), went on a bear walk with Ranger Jill (but didn't see any bears), hiked to a mountain lake and saw how early pioneers lived in the Sierras. The highlights of the trip were free climbing El Capitan with Buddy – although we weren't even close to summiting – and hiking the Mist Trail. At the waterfall on the Mist Trail we took a picture with Buddy and it looked like rainbows were shooting from his ears. At the Pioneer History Center, I watched a blacksmith shape a leaf out of steel. It is amazing how many steps it takes to make a beautiful tiny leaf."
What a fantastic camping trip Tigran! Follow Tigran's park adventures through social media on Twitter and Instagram (@jrRangerTigran). You can also follow Buddy Bison's adventures on Facebook, Twitter and Instagram (@NationalParkTrust). Remember to use the hashtags #BuddyBison or #WheresBuddyBisonBeen on your park travels.
TIGRAN'S NATIONAL PARK AND BUDDY BISON CHALLENGE
Who's up for a challenge? Our first student Buddy Bison Ambassador, 4th-grader Tigran Nahabedian from Ojai, CA, has created Tigran's National Park and Buddy Bison Challenge, which is open to all kids and adults. Tigran's challenge will help support our Kids to Parks Day National School Contest, which provides park scholarships for Title 1 students, and the Centennial celebration of the National Park Service. According to Tigran, "the purpose of my challenge is to raise awareness for the National Park Trust, to help underserved children, and to help the National Park Service."
Read about Tigran's five-step challenge here and pledge to participate today! If you would like to have me, Buddy Bison, as your trusty traveling companion, you can purchase Buddy here. Every purchase will help send a child in need to a park. As a bonus, you'll get to travel around with me wherever you go, and I'm always up for an adventure! Thank you, Tigran, for your outstanding work as our first student Buddy Bison Ambassador. Stay tuned for more updates from Tigran and his park ambassador work.