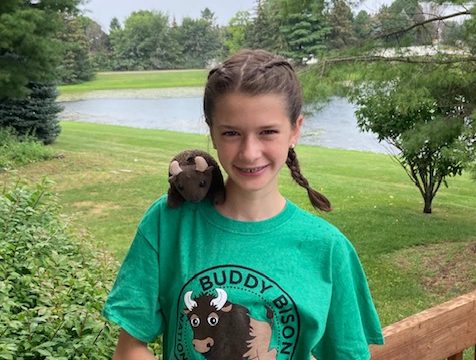 Ann Arbor, MI
My name is Sofía Dussán and I am 12 years old and I live in the beautiful state of Michigan. I have loved exploring our country's National Parks and public lands because I love learning about the history and the unique nature that is preserved in our National Parks.
Every chance I get, my family and I try to visit our National Park Sites – from smaller sites like River Raisin National Battlefield to the larger iconic parks like Rocky Mountain National Park and the Great Smoky Mountains National Park. We just saw the National Parks in Hawaii and I loved seeing a volcano for the first time. My favorite National Park is Isle Royale National Park, in the most northern part of Michigan, because I got to see moose, explore the isolated island, and jumped into freezing Lake Superior.
If I get the chance, I would love to travel to Denali National Park in Alaska and Yellowstone National Park. I really want to see a wolf in the wild.
In my role as a Buddy Bison Student Ambassador, I want to encourage other children to explore outside and get to know our country's national park sites. I also hope to reach other Spanish-speaking children like me through my posts and activities. También me gustaría compartir mi amor por la naturaleza con todas las personas que hablan espaňol.
You can follow me on Instagram @juniorranger_sofia and on my blog below.