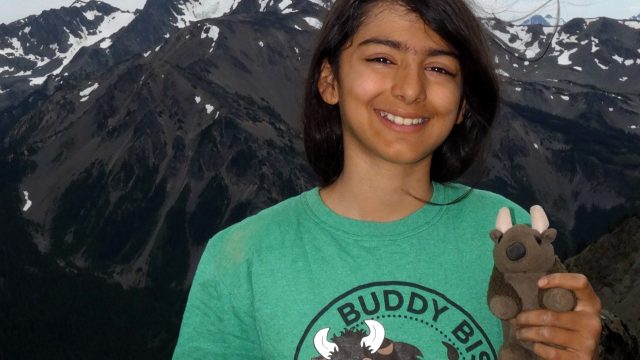 Washington
Hi there! My name is Asha and I am 11 years old (6th grade). I live in the northern part of the state of Washington. I am multilingual and speak Spanish as well as English. I am also working on learning Hindi, the most spoken language in the country of India. I love visiting national parks and doing the junior ranger programs they have. I also like volunteering in them. Junior ranger programs are for all ages and teach you about the park and the environment. These programs have educational workbooks on natural or human history for you to fill out, and when you are done they reward you with a cool badge, patch, or pin. The park nearest to me is Olympic National Park, and it is my home park. I have gone on several hikes and backpacks there. Earlier this summer I backpacked on the Hoh River trail. The view of the Blue Glacier at the end was incredible!
I have visited many National Parks located in the West and Southwest U.S. My favorite national parks are Redwood National and State Parks and Carlsbad Caverns National Park. My favorite thing to do in these parks is hiking because I enjoy scenic views. I enjoy seeing native animals, birds, and plants while on hikes. I also like backpacking. In 2021 I finished my biggest trip so far – the Colorado Trail – a very memorable 500-mile thru-hike in the Rocky mountains that took us 8 weeks. During our first week on the trail, we saw a rare double rainbow! It was really cool. We also saw some moose, weasels, and other cool animals.
Natural places are important because you can learn a lot from them. Many national parks have something that is found in no other place on the planet! Lots of animals, birds, and plants rely on public lands for survival and will become extinct if these lands are not protected. Also, there are many scientific and medical discoveries to be made in these areas, whether it be desert or forest.
You can follow me on my blog below and on Instagram @junior_rangers_asha_and_arun.