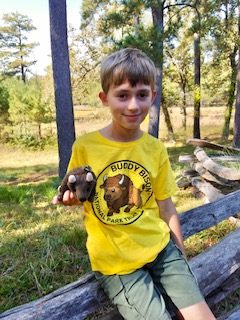 North Carolina
Hi, my name is Ian Jordan! I'm 9 years old, in the 4th grade, and I live in North Carolina. I love being outside and exploring nature. I am active in Cub Scouts (Webelos 1) and like to go camping. Science is my favorite subject, especially entomology, marine biology, and ornithology. I am on the Science Olympiad team at my school. We won first place last school year!
I am active with Kids in Parks TRACK Trails and have logged 103 adventures and hiked 111 miles! I was awarded the 2022 Youth Ambassador award from the Blue Ridge Parkway Foundation. Over the past several years I have been active with ecoEXPLORE and have photographed and shared nearly 1,000 nature observations, earning an Apple iPod Touch which is helpful when exploring nature, especially with my favorite apps Seek by iNaturalist and Merlin Bird ID.
I have visited 140 National Park Service sites with my family and have completed their Junior Ranger programs. My favorite parks are Mammoth Cave National Park (KY) and Hot Springs National Park (AK)! I have also been to all 41 North Carolina State Parks and completed the Junior Ranger program at each. I have also completed State Park Junior Ranger programs in Florida, Georgia, South Carolina, Vermont, and Arkansas. My favorite state parks are Cathedral Caverns in Alabama, Morrow Mountain in North Carolina, and Crater of Diamonds in Arkansas.
As a National Park Trust Student Ambassador, I plan to continue to travel and share stories of my visits so that others might be encouraged to make visits of their own to our National, State, and local parks and other Public Lands. My goal is to visit every National Park site and each State in the USA!
You can follow me on Instagram @junior_ranger_ian and on my blog below.